Contenido principal
2018
Back
El consejero Dies inaugura la octava edición del Máster universitario en Ingeniería Nuclear y el Máster Europeo en Energía Nuclear de la ETSEIB-UPC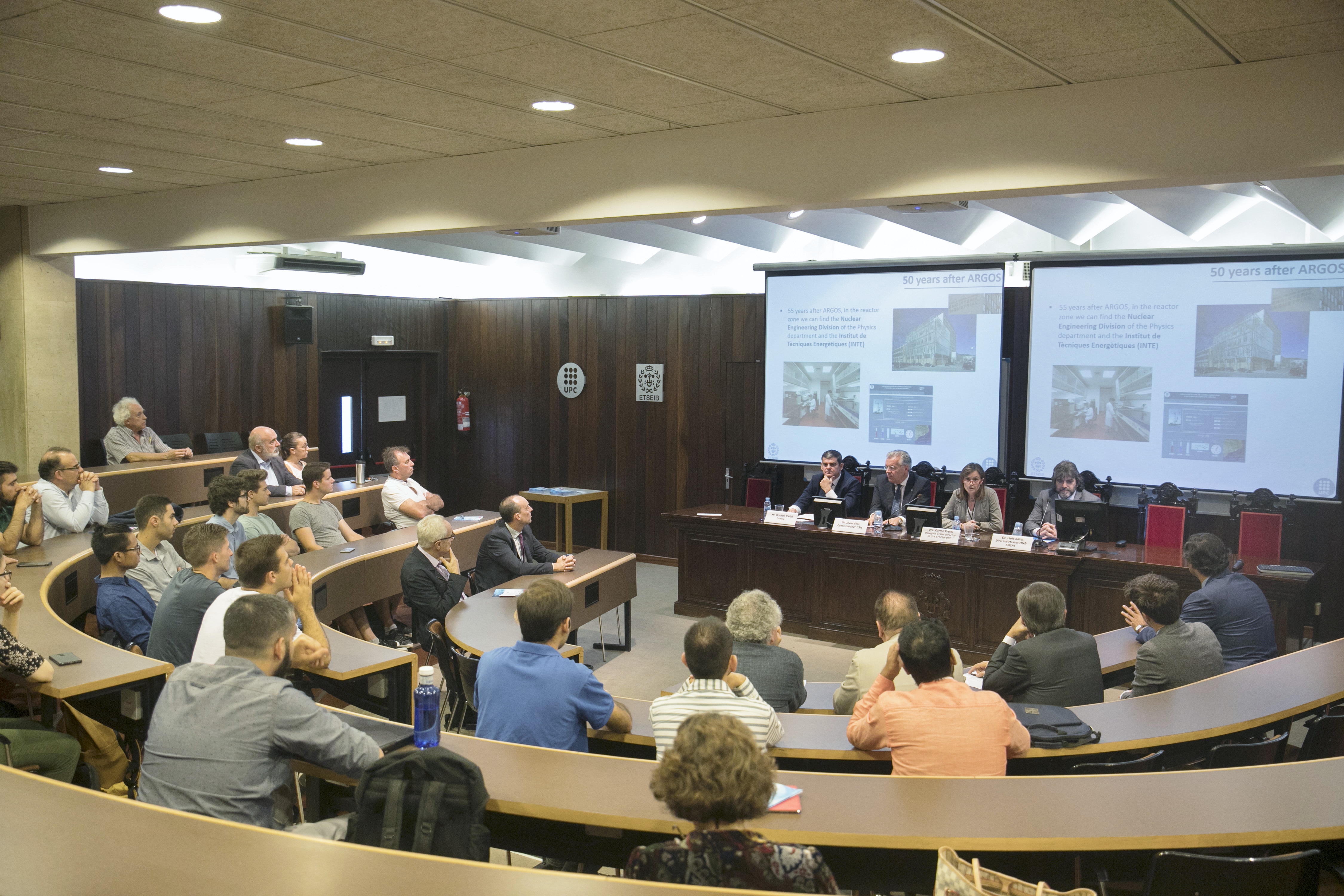 El consejero del Consejo de Seguridad Nuclear, Javier Dies, Catedrático de Ingeniería Nuclear de la Universidad Politécnica de Cataluña (UPC), actualmente en excedencia, inauguró ayer el curso académico 2018-2019 del Máster universitario en Ingeniería Nuclear (MNE, por sus siglas en inglés) y del Máster Europeo en Energía Nuclear (EMINE, por sus siglas en inglés) de la Escuela Técnica Superior de Ingeniería Industrial de Barcelona (ETSEIB) – UPC. Durante el acto han tomado también la palabra Gonzalo Carbó, en representación de Endesa, Carme Pretel, subdirectora jefe de Estudios de Ingeniería Industrial de la ETSEIB y Lluís Batet, director de ambos máster.
La jornada comenzó con dos presentaciones: 'The nuclear Safety Council and Safety of nuclear Power Plants', a cargo de Javier Días y 'Fighting climate change: the role of nuclear energy', a cargo del director general de energía nuclear de Endesa, Gonzalo Carbó.
Durante el acto, el consejero Dies entregó el premio 'Cátedra Argos' del CSN al estudiante con mejor expediente académico de ambas titulaciones correspondiente al anterior curso. En su intervención quiso destacar que uno de los caminos para incrementar la seguridad de las instalaciones nucleares y radiactivas se basa en incorporar en estas instalaciones, y en el organismo regulador, profesionales con una formación sólida en seguridad nuclear y protección radiológica.
Por su parte, Gonzalo Carbó comentó la importancia de la generación nuclear en la descarbonización y electrificación de la economía, necesarios durante la transición energética, para el cumplimiento de los compromisos medioambientales en el ámbito de la Unión Europea.
En el turno de palabra del profesor Lluís Batet éste presentó los objetivos y el programa académico del máster, destacando su clara orientación internacional (un 60 por ciento de asistentes). Carme Pretel por su parte, subrayó la contribución de la ETSEIB en la formación e investigación nuclear, que tiene sus orígenes ya en los años 1964 con la construcción del reactor experimental Argos en la ETSEIB-UPC.
La participación del consejero en este acto se encuadra dentro de sus responsabilidades en la Comisión de Seguimiento de la Cátedra Argos creada por El Consejo de Seguridad Nuclear en la ETSEIB-UPC.