Contenido principal
CSN
The Spanish Nuclear Safety Council (CSN) is the sole nuclear safety and radiation protection authority in Spain. The CSN is governed by public law and by its charter. It is independent from the central government, and it has its own legal personality and its own assets. It is accountable to the Congress of Deputies and the Senate.
The CSN's mission is to protect employees, the population at large and the environment from the harmful effects of ionising radiation. It accomplish this by ensuring that nuclear and radioactive facilities are operated safely and by establishing the preventive and corrective measures to apply in all radiological emergencies, no matter what their source.
El CSN ha participado en la XXIX Conferencia de Información Reguladora (RIC)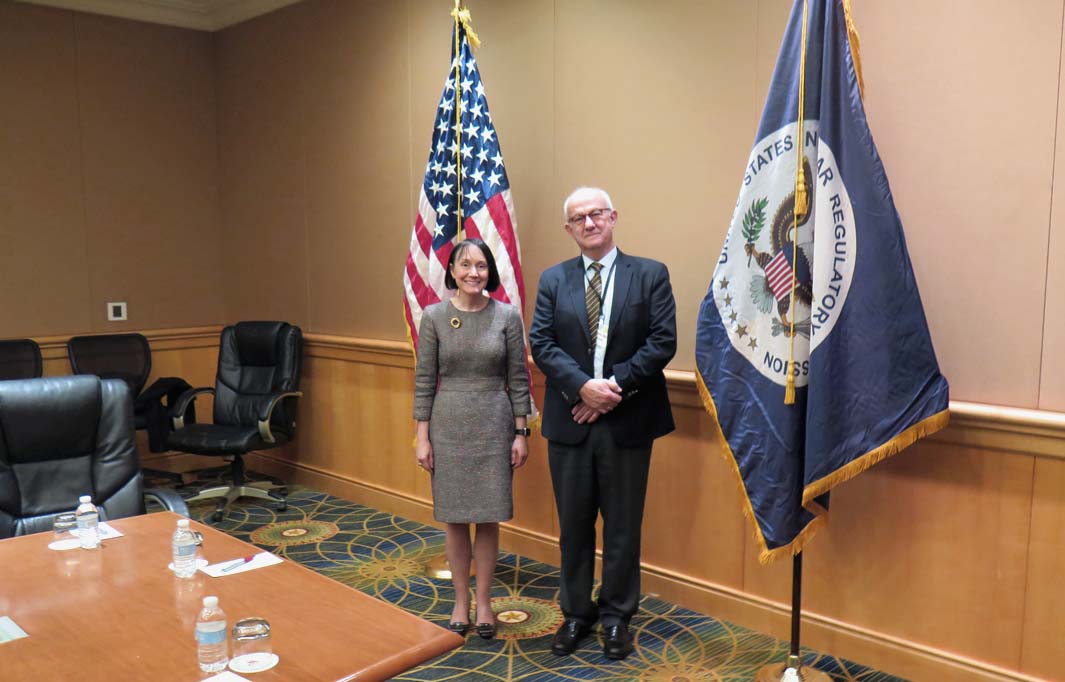 El Consejo de Seguridad Nuclear (CSN) participa desde el martes en Washington (EE. UU.) en la Conferencia de Información Reguladora (RIC), organizada por la Comisión Reguladora Nuclear de los Estados Unidos (NRC, por sus siglas en inglés), y que este año cumple su vigésimo novena edición. La delegación del CSN está formada por su presidente, Fernando Marti Scharfhausen, el consejero Javier Dies Llovera y el subdirector de Instalaciones Nucleares, Manuel Rodríguez.
El programa de la RIC está dividido en sesiones técnicas, paneles de discusión y presentaciones sobre ejes de actualidad para los organismos reguladores, la administración y la industria, como la gestión del conocimiento, la formación internacional, la regulación en casos de emergencia, la seguridad del combustible gastado, la operación a largo plazo y la cultura de seguridad, entre otros.
El director de la Oficina de Regulación de Reactores Nucleares de la NRC (NRR por sus siglas en inglés), William M. Dean, ha iniciado esta conferencia junto con la recién nombrada presidenta de la NRC, Kristine L. Svinicki y el director ejecutivo de Operaciones, Victor McCree con un discurso en el que se han tratado temas relacionados con la extensión de vida de las centrales, el licenciamiento de nuevos reactores o la aplicación de las mejoras derivadas de la aplicación de las lecciones aprendidas de Fukushima.
Esta conferencia internacional, conocida como RIC, constituye un foro de intercambio de información y experiencias, que reúne a alrededor de 3.000 participantes procedentes de 30 países.
El organismo regulador estadounidense realiza un seguimiento de la conferencia desde su cuenta en Twitter (@NRCgov_RIC) y pone a disposición del público la información disponible en su página web www.nrc.gov.
Reuniones paralelas
Además, la delegación del CSN se ha entrevistado con sus homólogos de la NRC, a los cuales han explicado cuestiones de interés relacionadas con actividades conjuntas que se están llevando a cabo y los próximos compromisos internacionales para alcanzar posiciones comunes.
Asimismo, los representantes del organismo regulador español han mantenido reuniones con el presidente del organismo regulador de Marruecos MANRSS, Khammar Mrabit y con el director general de la organización de soporte técnico de Alemania GRS, Uwe Stoll.
En ambas reuniones se han debatido posibles temas de interés común para una futura colaboración.