Contenido principal
2018
Back
La misión del OIEA demuestra el fuerte compromiso de España con la seguridad y apunta a desafíos en la gestión de residuos radiactivos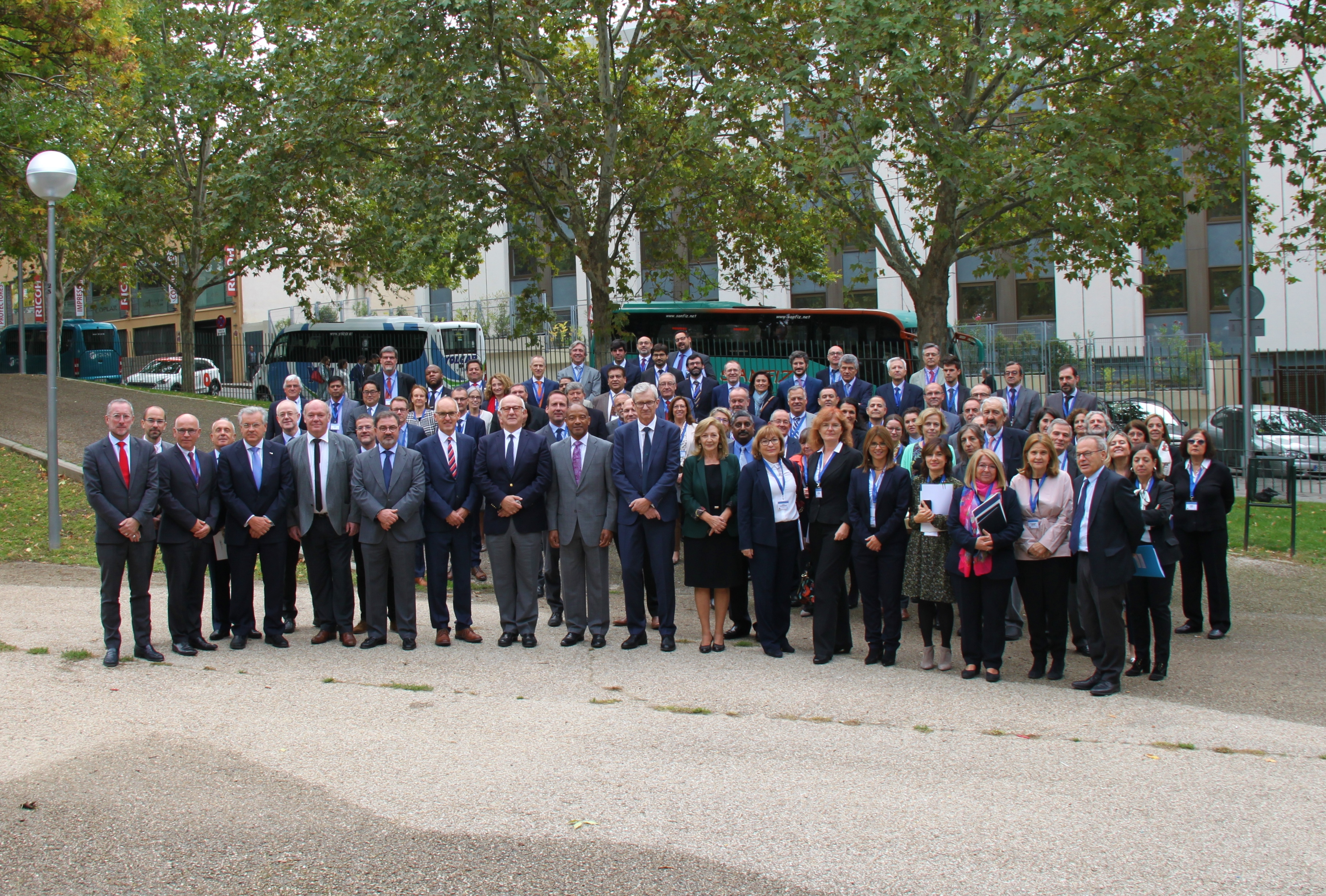 Un equipo de expertos del Organismo Internacional de Energía Atómica (OIEA) ha apuntado hoy que España muestra un fuerte compromiso con la seguridad nuclear y radiológica, pero ha señalado que el país podría enfrentar algunos desafíos en la implementación de su estrategia de gestión de residuos radiactivos.
Por primera vez, este organismo internacional ha realizado dos revisiones de interpares diferentes combinadas en una sola misión que ha concluido esta semana. El equipo del Servicio Integrado de Revisión Reguladora (IRRS, por sus siglas en inglés) examinó el marco regulatorio español para la seguridad nuclear y radiológica y el equipo del Servicio Integrado de Revisión para la Gestión, Desmantelamiento y Restauración de Residuos Radiactivos y Combustibles Gastados (ARTEMIS, por sus siglas en inglés) proporcionó una evaluación independiente del programa de gestión de residuos radiactivos de España. La misión combinada se llevó a cabo a petición del Gobierno de España.
La misión fue organizada por el Consejo de Seguridad Nuclear (CSN), el Ministerio para la Transición Ecológica (Miteco) y la Empresa Nacional de Residuos Radiactivos (Enresa).
El equipo internacional reconoció la experiencia y la dedicación de la autoridad reguladora nacional, que incluye al CSN, los ministerios pertinentes y las autoridades gubernamentales locales, y felicitó a España por su estrategia para la gestión de los residuos radiactivos y el combustible gastado generado en el país. El equipo observó, sin embargo, que los retrasos en la implementación de esta estrategia podrían afectar a su sostenibilidad.
"Al invitar al OIEA a llevar a cabo esta misión única, el Gobierno español ha demostrado un fuerte compromiso con un principio básico de excelencia en seguridad nuclear y radiológica, una búsqueda de mejora continua", ha declarado el líder del equipo, Victor McCree, antiguo director ejecutivo de Operaciones de la Comisión Reguladora Nuclear de Estados Unidos (USNRC, por sus siglas en inglés).
La energía nuclear genera alrededor del 20% de la electricidad en España. Nuestro país tiene siete reactores de energía nuclear en funcionamiento y tres en parada permanente, dos de los cuales están en proceso de desmantelamiento. La mayoría de las centrales nucleares cuentan con instalaciones provisionales de almacenamiento de combustible gastado (Almacén Temporal Individualizado) y, además, España cuenta con una instalación de almacenamiento de residuos radiactivos de muy baja, baja y media actividad. Para el futuro se ha planeado la construcción de un Almacén Temporal Centralizado (ATC), pero el Gobierno ha suspendido temporalmente la revisión de sus licencias.
Las misiones IRRS están diseñadas para fortalecer la efectividad de la infraestructura de la regulación nuclear nacional, utilizando los estándares de seguridad del OIEA y las buenas prácticas internacionales, al tiempo que reconocen la responsabilidad de cada país para garantizar la seguridad nuclear y radiológica.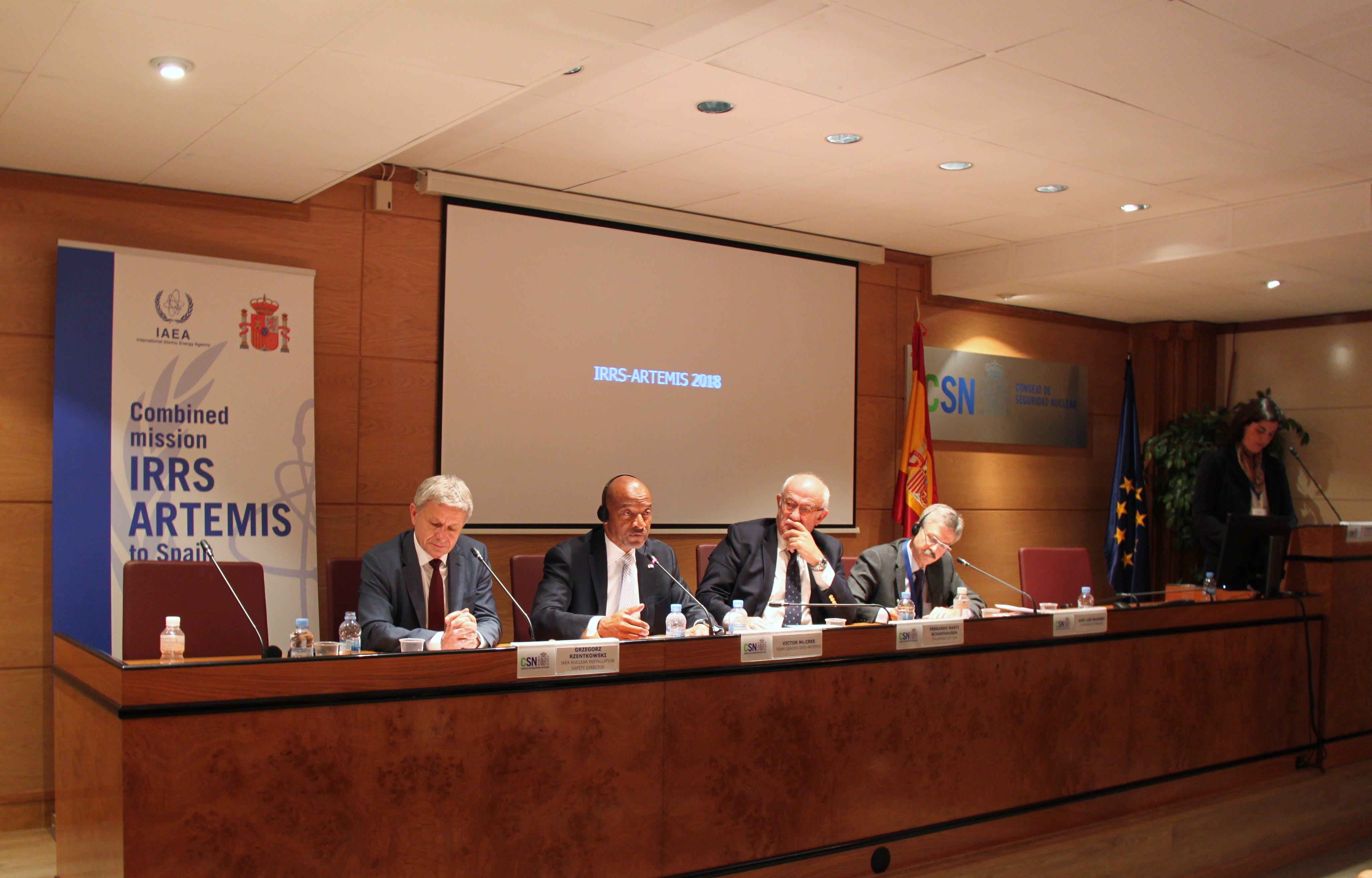 Las misiones ARTEMIS brindan el asesoramiento de expertos independientes de un equipo internacional de especialistas convocado por el OIEA. Las revisiones se basan en las normas de seguridad, la orientación técnica y las buenas prácticas internacionales del OIEA.
La misión abarcó todas las instalaciones y actividades nucleares reguladas, así como el marco y programa nacional para la gestión de todo tipo de residuos radiactivos y combustible gastado en España. El equipo se reunió con las agencias pertinentes, incluidos el CSN, Enresa y el Ministerio para la Transición Ecológica, y observó inspecciones reglamentarias en sitios como una central nuclear, una instalación de fabricación de combustible nuclear y una gran instalación de radiografía industrial.
El equipo observó dos buenas prácticas que serán promovidas internacionalmente:
Una herramienta innovadora de gestión de datos utilizada por el CSN para evaluar la seguridad en el transporte de materiales radiactivos.
El diseño de vanguardia de Enresa para la instalación del almacenamiento centralizado como parte de una estrategia nacional para administrar el combustible gastado.
El equipo hizo varias recomendaciones para ayudar a fortalecer la seguridad nuclear y radiológica en el país:
El Gobierno debe garantizar que el retraso en el establecimiento del Almacén Temporal Centralizado no afecte negativamente a la gestión segura del combustible gastado y a los residuos de mayor nivel.
El Gobierno debe tomar medidas inmediatas con respecto a la actualización del Plan General de Residuos Radiactivos.
El Gobierno, el CSN y Enresa deben desarrollar regulaciones, requisitos técnicos y un plan de implementación para una instalación de disposición geológica profunda.
El Gobierno debe mejorar la coordinación entre operadores, organizaciones de respuesta y autoridades reguladoras durante una emergencia nuclear y radiológica.
La autoridad reguladora debe mejorar los procesos de revisión sistemática de las normas y guías nucleares de acuerdo con las normas de seguridad del OIEA.
El CSN debe completar acuerdos de cooperación con otras autoridades nacionales competentes con respecto a la gestión de áreas contaminadas.
"Siempre hay espacio para mejorar en la búsqueda de la excelencia y la eficiencia para guiar a las administraciones públicas en su compromiso de servir a los ciudadanos y lograr los más altos niveles de seguridad", ha declarado el presidente del CSN, Fernando Marti Scharfhausen.
El presidente de Enresa, José Luis Navarro, expresó su total satisfacción y gratitud al equipo internacional. "El sistema español de gestión de residuos radiactivos es robusto y bastante completo desde el punto de vista legal, administrativo, financiero y técnico, aunque se necesita poner énfasis en actualizar la planificación actual", puntualizó Navarro.
El equipo de revisión estuvo compuesto por 24 expertos internacionales de alto nivel de Argentina, Australia, Bélgica, Brasil, Finlandia, Francia, Alemania, Hungría, Japón, Pakistán, Eslovenia, Sudáfrica, Suecia, Suiza, el Reino Unido, los Estados Unidos y el personal del OIEA.
"A la luz de los desafíos actuales y futuros en la industria nuclear en España, creo que la misión fue muy oportuna", dijo Greg Rzentkowski, director de la División de Seguridad de Instalaciones Nucleares del OIEA. "Los hallazgos contribuirán a la mejora continua de la seguridad nuclear y radiológica en el país, incluida la gestión segura de los residuos radiactivos".
El informe final de la misión combinada se proporcionará al Gobierno en aproximadamente tres meses. El Gobierno tiene previsto hacer público el informe.

Madrid, 26 October 2018 – An International Atomic Energy Agency (IAEA) team of experts today said Spain showed a strong commitment to nuclear and radiation safety, but noted that the country could face challenges in the implementation of its radioactive waste management strategy.
For the first time, the IAEA carried out two different peer reviews combined in one mission, which concluded this week in Spain. The Integrated Regulatory Review Service (IRRS) team looked at the Spanish regulatory framework for nuclear and radiological safety. The Integrated Review Service for Radioactive Waste and Spent Fuel Management, Decommissioning and Remediation (ARTEMIS) provided an independent evaluation of the country's radioactive waste management programme. The combined mission was carried out at the request of the Government of Spain.
The mission was hosted by the Nuclear Safety Council (CSN), the Ministry for Ecological Transition, and the Spanish Radioactive Waste Management Agency (ENRESA).
The team recognized the expertise and dedication of the national regulatory body – which includes CSN, relevant ministries and local government authorities – and commended Spain for its strategy for the management of radioactive waste and spent fuel generated in the country. The team noted, however, that delays in the implementation of the strategy could affect its sustainability.
"In inviting the IAEA to conduct this unique mission, the Spanish government has demonstrated strong commitment to a basic principle for excellence in nuclear and radiation safety—a quest for continuous improvement," said team leader Victor McCree, retired Executive Director for Operations at the United States Nuclear Regulatory Commission.
Nuclear power generates around 20% of Spain's electricity. The country has seven operating nuclear power reactors and three in permanent shutdown, two of which are being decommissioned. Most of the reactor sites have interim spent fuel storage facilities, and Spain has one disposal facility for very low, low and intermediate level radioactive waste. There are plans for the construction of a facility – the Centralized Storage Facility – for higher level radioactive waste and spent fuel, but its licencing review has been temporarily halted by the Government.
IRRS missions are designed to strengthen the effectiveness of the national nuclear regulatory infrastructure, using IAEA safety standards and international good practices, while recognizing the responsibility of each country to ensure nuclear and radiation safety.
ARTEMIS missions provide independent expert advice from an international team of specialists convened by the IAEA. Reviews are based on the IAEA safety standards, technical guidance, as well as international good practices.
The mission covered all regulated nuclear facilities and activities, as well as the national framework and programme for the management of all types of radioactive waste and spent fuel in Spain. The team met with relevant agencies, including CSN, ENRESA and the Ministry for Ecological Transition, and observed regulatory inspections at sites such as a nuclear power plant, a nuclear fuel fabrication facility and a large industrial radiography facility.
The team observed two good practices that will be promoted internationally:
An innovative data management tool used by CSN for assessing safety in the transport of radioactive materials.
ENRESA's state-of-the-art design for the Centralized Storage Facility as part of a national strategy to manage spent fuel.
The team made several recommendations to help strengthen nuclear and radiation safety in the country:
The Government should ensure that delays in establishing the Centralized Storage Facility do not negatively impact the safe management of spent fuel and higher level waste.
The Government should take immediate steps regarding updates to the national General Radioactive Waste Plan.
The Government, CSN and ENRESA should develop regulations, technical requirements and an implementation plan for a deep geological disposal facility.
The Government should enhance coordination among operators, response organizations and regulatory authorities during a nuclear and radiological emergency.
The regulatory body should enhance processes for systematic reviews of nuclear regulations and guides in line with IAEA safety standards.
CSN should complete cooperation agreements with other national competent authorities regarding the management of contaminated sites.
"There is always room for improvement in the pursuit of excellence and efficiency to guide public administrations in their commitment to serve citizens and achieve the highest levels of safety," CSN Chairman Fernando Marti Scharfhausen said.
ENRESA Chairman Jose Luis Navarro declared his full satisfaction and gratitude to the international team. "The Spanish radioactive waste management system is robust and rather complete from the legal, administrative, financial and technical viewpoints, although attention is needed in order to update the current planning," Navarro said.
The review team comprised 24 senior international experts from Argentina, Australia, Belgium, Brazil, Finland, France, Germany, Hungary, Japan, Pakistan, Slovenia, South Africa, Sweden, Switzerland, the United Kingdom, the United States and IAEA staff.
"In light of the ongoing and future challenges in the nuclear industry in Spain, I believe the mission was very timely," said Greg Rzentkowski, Director of the IAEA Division of Nuclear Installation Safety. "The findings will contribute to the continued improvement of nuclear and radiation safety in the country, including the safe management of radioactive waste."
The final report for the combined mission will be provided to the Government in about three months. The Government plans to make the report public.