Contenido principal
Spent fuel storage casks
Contenedores de almacenamiento de combustible nuclear gastado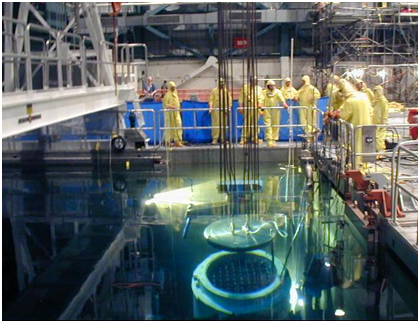 Once it has been used in nuclear reactors, the nuclear fuel is stored in pools in the nuclear power plants to allow its activity to decay and its cooling. The spent nuclear fuel can then be stored dry until its definitive disposal in storage casks or storage and transport casks, the latter ones being called dual purpose casks.
These storage systems consist of a set of elements that ensure the safe storage of the spent fuel. Their design is based on ensuring compliance with the safety functions required by regulations: keeping the material subcriticality and confinement and preventing its degradation, shielding against the gamma and neutron radiation and the removal of the residual heat generated by radioactivity.
These casks consist of a cylindrical container with a sealing system and an inside rack to house the fuel assemblies. The cask can store between 20 and 60 fuel assemblies, depending on the type of nuclear fuel.
The spent fuel assemblies that meet the requirements established in the cask's license (cooling time, burnup and enrichment grade, among other parameters) can be stored according to a revised and approved load plan.
Regulations in force define the nuclear safety and radiological protection requirements for the design of spent nuclear fuel casks, set the documentation required for their approval and ensure the appropriate coordination between the licensees of the design and manufacturing phases and the use phase of the casks, since the organizations responsible may be different in each phase.
To draft the required reports for these licensing processes, the CSN follows its own regulations, those of the country of origin of the technology and the international regulations such as those of the International Atomic Energy Agency (IAEA) in matters related to the storage of spent fuel and, especially, to spent fuel dry storage casks.